Stay Up-to-Date With the Latest News in the Targeted Protein Degradation Field.
Browse Our Exclusive Content Below
Explore the press releases from the 5th TPD Summit!
Expect many more press releases this year, with lots of new data to be shared by 100+ experts.
Arvinas Announces Winner of the 2022 Arvinas Early Career Researcher Award
Foghorn Therapeutics Announces New Data Demonstrating BRD9 Degradation in Patient Tumor Biopsies and Discloses New Selective CBP Program
Orionis Biosciences Demonstrates Platform Capabilities of Genome-scale Molecular Glue Discovery and Rational Design at Targeted Protein Degradation Summit
Salarius Pharmaceuticals Presents Favorable Preclinical Data on SP-3164 at the 5th Annual Targeted Protein Degradation Conference
ASP-3082, a PROTAC that selectively degrades KRAS G12D protein, shows potent in vivo antitumor efficacy
An Exclusive Interview With:
Jennifer Johnston, Co-Founder & Chief Executive Officer, NysnoBio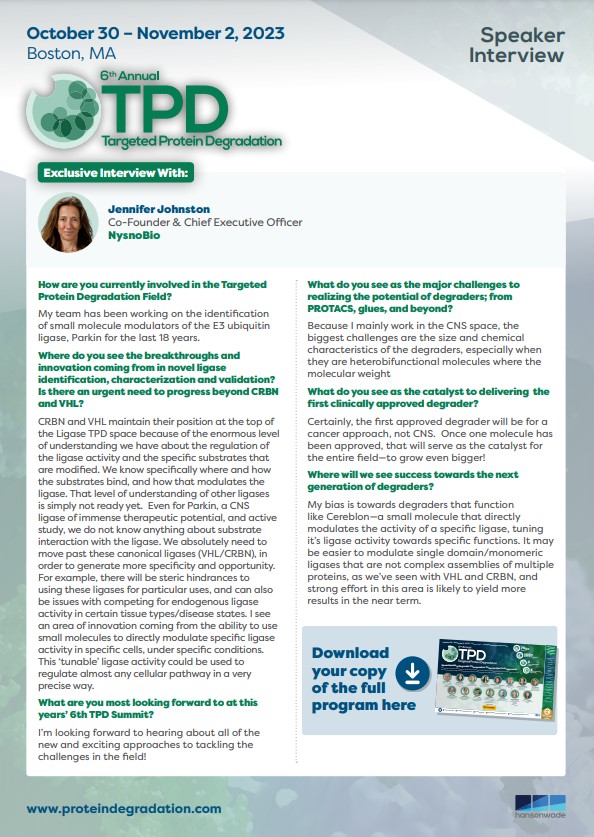 The TPD Landscape: A Review
Conducted by Beacon Targeted Therapies
Nurix Interview
5th Targeted Protein Degradation Summit
Hear from Arthur T. Sands, M.D., Ph.D., president and CEO of Nurix Therapeutics, as he shares his thoughts on the TPD field and why he's excited about the upcoming conference. He also gives a sneak peek to what he and the Nurix team will be presenting next month.
<< Check out the full interview here
Beacon Brainstorms Podcast:
Alessio Ciulli on Drug Design and the Future of TPD
Sofia Rodriguez talks to Alessio Ciulli, professor of chemical structural biology at the University of Dundee and Co-Founder of Amphista Therapeutics, the leading Europe-based TPD company. Join us to hear about his lab's ground-breaking research into protein degradation, the opening of the new Centre for Targeted Protein Degradation (CeTPD), and the opportunities and challenges of novel degrader design.